As primeiras reacções a Thor: Love and Thunder não podiam ser melhores
"Electrizante", "Puro Entertenimento", "O filme mais engraçado do MCU", e mais.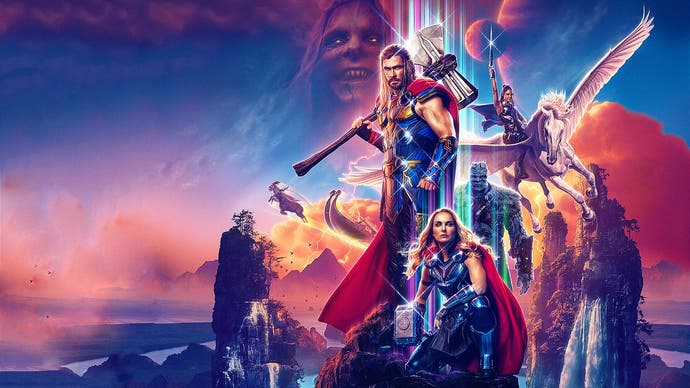 Thor: Love and Thunder só estreia nos cinemas de Portugal a 7 de Julho, mas há um grupo de privilegiados que já assistiram ao filme na grande estreia de Hollywood no passada Quinta-Feira.
Embora as reviews estejam embargadas até 5 de Julho (segundo o Hollywood Reporter), a Marvel permitiu a algumas pessoas partilharem as suas primeiras impressões nas redes sociais.
O filme, bem como a realização de Taika Waititi, está a receber elogios de todas as direcções. Os destaques vão para a comédia, a banda sonora, a interpretação de Christian Bale de Gorr, e sequências visuais impressionantes.
Aqui estão as diferentes reacções a Thor: Love and Thunder. Tens planos para assistir no cinema, ou vais esperar que o filme chegue ao Disney Plus?
I saw #ThorLoveAndThunder. It can't quite match the visual or comedy bombast of Ragnarok, but Taika Waititi makes up for it with an emotionally mature Marvel movie. It's also very funny (Natalie's got jokes) and features one of the most stunning visual sequences in MCU history.

— Jake (@jacobkleinman) June 24, 2022
THOR: LOVE AND THUNDER is a rockin' great time with electrifying action, lots of laughs (the screaming goats!) & a profound story on absent gods & our desire for love. Natalie Portman makes a mighty return & Christian Bale slays it as the terrifying Gorr. The best Thor film yet! pic.twitter.com/s42SkqxlJj

— Matt Neglia (@NextBestPicture) June 24, 2022
Another classic Thor adventure! #ThorLoveAndThunder is everything I wanted it to be. Big, colorful, weird Guns N' Roses-fueled battles to go w/ a hopelessly romantic story about discovering love in unexpected places. Christian Bale & Russell Crowe are especially great. And Korg! pic.twitter.com/fu0gTUuMRj

— Erik Davis (@ErikDavis) June 24, 2022
#ThorLoveAndThunder is the GREATEST movie Marvel has made so far! I'm not joking. I haven't laughed that hard since Ragnarok and I feel invested in Marvel again in a way that I haven't since Endgame. Also, bring tissues. The journey is *chefs kiss* from start to finish!❤️ pic.twitter.com/bJYVxCJoQS

— Lyra Hale 🔜 SDCC (@TheAltSource) June 24, 2022
#ThorLoveAndThunder is absolutely electrifying. My favorite #Thor movie of the four.

Taika Waititi through and through. It's mature, the soundtrack rocks, and there's great surprises. So much fun.

Feels like the best of MCU Phase 1 and Phase 4 in one entry. Loved it. pic.twitter.com/3SO5yoy6j0

— BD (@BrandonDavisBD) June 24, 2022
#ThorLoveAndThunder surpasses all expectations balancing absolutely bombastic insanity with moving character driven stories. Christian Bale is top tier and Natalie Portman is truly outstanding. Waititi may have just delivered the MCU's best movie of Phase 4 #ThorLoveAndThunder pic.twitter.com/HDePEKKS8P

— Caitlin Tyrrell (@caitlin_tyrrell) June 24, 2022
Thor: Love and Thunder is a fun, tight, and largely self contained Marvel adventure. If not quite as much of a surprise as Ragnarok, this is more evidence that Taika Waititi knows how to make Thor a blast. Heart/humor mix again to make for a real good time. #ThorLoveAndThunder pic.twitter.com/Bkxn5HJFQe

— Joey Magidson (@JoeyMagidson) June 24, 2022
holy shit. #ThorLoveandThunder is the perfect blend of taika at his best with comedy and a punch to the gut all in one. i left this movie emotionally satisfied while also sobbing and just perfection. we stan a dad rock soundtrack. in the words of my new favorite characters: AHH pic.twitter.com/MytduVq89h

— it was rachatha all along (@RachelLeishman) June 24, 2022
#ThorLoveAndThunder is the funniest film in the MCU. The jokes are excellent as is the cast delivering them.

Christian Bale, obviously, is also terrifying as #Gorr

BUT, the plot felt flat and stakeless. Not sure if that's a #Thor problem or an MCU-without-a-big-bad problem. pic.twitter.com/G6XP9EyL0Y

— Eric Italiano (@ericitaIiano) June 24, 2022
What a rush! Thor: Love & Thunder is pure entertainment. It's fun, emotional, it has moments of horror. Christian Bale is perfectly terrifying as Gorr. Natalie Portman is fantastic as the Mighty Thor. Chris Hemsworth is perfect. And the goats are GOATS. #thor #ThorLoveAndThunder pic.twitter.com/u9QhIPh0G9

— Wendy Lee Szany (@WendyLeeSzany) June 24, 2022